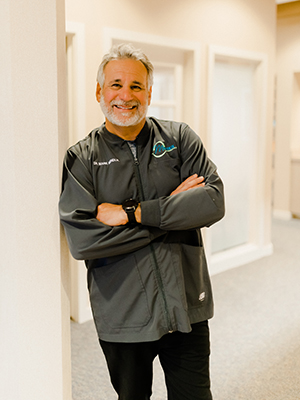 Dr. Mendlik is a second generation Orthodontist, following in the footsteps of his father, Dr. Gary Mendlik. Dr. Mark Mendlik completed his undergraduate degree at the University of Nebraska where he majored in Biology. He went on to earn his Doctorate of Dental Surgery, with honors, from Creighton University School of Dentistry. From there Dr. Mendlik attended the University of Nebraska orthodontic graduate program where he graduated with a Master of Science and specialization in orthodontics. Dr. Mark joined his father at Mendlik Orthodontics in 1997 and since then, he has taken over the practice and has transformed thousands of beautiful smiles in the Omaha, NE, Fremont, NE and Columbus, NE metro areas.
Experienced and Board Certified
Dr. Mendlik is dedicated to providing outstanding and specialized care for his patients through continued education and training. Dr. Mendlik has earned the distinguished honor of becoming a board-certified Omaha orthodontist. Only one in three orthodontists have taken this voluntary step. The certification process can take a number of years to complete and highlights Dr. Mendlik's commitment to providing top-notch care to his patients. Board certification is the highest level of academic achievement and required Dr. Mendlik to pass a written exam and to have the results of his treatment cases reviewed by the American Board of Orthodontists. 
In addition, Dr. Mendlik is a member of the American Board of Orthodontics College of Diplomates. He has also served as an assistant clinical professor in the Department of Pediatric Dentistry and Orthodontics at Creighton University and was a past president of the Omaha Orthodontic Study Club. Currently, Dr. Mendlik is a member of the Roth/Williams International Society of Orthodontics.
Professional Affiliations  
American Dental Association
American Association of Orthodontists
Nebraska Dental Association
Omaha District Dental Association
American Board of Orthodontics
Roth Williams International Society of Orthodontists
Omaha Orthodontic Study Club
Outside the office
Dr. Mendlik was raised in Fremont, NE. When he is not creating beautiful smiles, Dr. Mendlik loves to spend time with his wife, Lisa and their twin teenagers, Dominic and Lauren. As a family, they enjoy spending time outdoors or on the water, going on vacation, giving back to the community and schools through various activities, and playing with their dog, Remi.
Dr. Mendlik is passionate about giving back to the communities that support him. Mendlik Orthodontics sponsors various charities, local sports teams, and athletic programs throughout the community each year. Dr. Mendlik recognizes the importance of education and is most proud of the Partners In Education program that he started in 2013. Mendlik Orthodontics partners with local schools by making a donation to every patient's school that begins treatment in our office. We have been humbled by the countless letters letting us know what the money has helped to fund for each school. In giving back, we hope to strengthen educational programs and opportunities for all students. We are proud to say that Mendlik Orthodontics has donated more than $41,500 to the Partners In Education program alone!